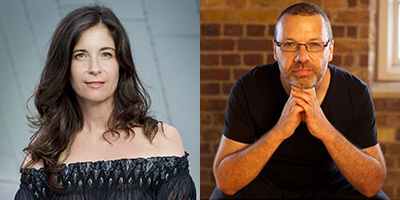 Lisa Page & Mo Latin work with couples around the world, helping them to create extraordinary, passionate and deeply loving relationships. They teach principles and practices to deepen trust and connection, (re)awaken attraction and desire, and consciously explore the 'edge' in love, sex and intimacy together. These practices lead to not only a truly soul satisfying and fulfilling relationship, but also a richer and more authentic life.
Lisa Page is an international teacher, published author and poet who has been passionately exploring the deeper truths of life, love and intimacy for more than twenty years. For the last 18+ years she's shared what she's discovered along the way through her mentoring, workshops and writing. Lisa works with women and couples from around the world and has taught live workshops and trainings in Australia, Asia, NZ, USA, UK and Europe.
Lisa's poetry was published in 2016 in 'Diamond Cutters – Visionary Poets in America, Britain and Oceania', edited and introduced by world-renowned mystic, and best selling author, Andrew Harvey and Jay Ramsay. She is also a contributing author in 'Picture Them Naked – Everything You Ever Wanted to Know about Presenting and Public Speaking and Were Afraid to Ask' published in 2014 where she shares her knowledge for aspiring speakers.
As a sacred intimacy teacher, Lisa has been profoundly influenced by her study and work with world renowned teacher and best-selling author, David Deida. Since 2008 Lisa has immersed herself in 17+ trainings with Deida as a way to deepen her own spiritual-sexual practice and to support others to do the same, first as a participant, then as an assistant, as lead female assistant, and then teaching Ocean & Fire | A Workshop for Women where Deida was a guest-teacher.
The somatic and psychological aspect of Lisa's work is built on the foundation of her 4 year diploma as a Dru yoga teacher, with an emphasis on de-traumatisation. She also has a Masters in Neurological Re-patterning, Ericksonian hypnosis and performance coaching and has completed additional psychology training with Dr. Clarissa Pinkola Estes, world renowned Jungian Analyst & Best Selling Author of 'Women Who Run With the Wolves'. Lisa has also completed training in the energetics of the spiritual-sexual body with Master Mantak Chia, the author of 'The Multi Orgasmic Woman/Man/Couple'
Lisa is devoted to the embodiment of Love as a dynamic art and sacred sexual practice and is leading the way as the creator of EmbodySHE™, her transformational women's work grounded in feminine embodiment practices, powerful breath-work, original-wild-free-movement, artistic offering and sacred ritual.
Mo Latin left school at 17 to join the London music industry, against careers advice warning that he should 'get a proper job' …
Gifted with an ear for deep and detailed listening, and intrigued by human behaviour and artful self-expression, Mo has worked with top performers, artists and leading creatives from around the world for over 30 years, successfully helping them extract their unique brilliance, path and purpose, to live aligned and embodied in their greatest personal and professional potential.
20+ years in the London music industry as a musician, freelance recording engineer and music producer, eliciting ever better performance and expression from international recording artists, alongside 10 years as an international trainer/assessor for industry qualifications in music production and multi-track recording.
10+ years producing digital media and over 300 world-class live events (thousands of hours of trainings) with highly-acclaimed International speakers, authors and leaders in business, relationship and spirituality, including Anthony Robbins, Dr. John Demartini, and currently as audio producer and workshop assistant with David Deida (more at AskTheAVPro).
This was a period of massive growth, immersed in thousands of hours of intensive, high-level trainings (worth hundreds of thousands of dollars), with the opportunity to observe, experience and learn from the deep and profound work of worlds' best in personal, relationship, business and spiritual development.
Mo has attained 7th dan as a Black Belt instructor in traditional Japanese martial arts (Bujinkan – from Samurai and Ninjutsu lineage), he is also a studious practitioner of  Shibari, and has a growing global following for his distinctive sensual photography.
Now based in Australia, Mo's clients today are extraordinary entrepreneurs and leading creatives from all over the world, already highly successful, yet seeking something more – deeper personal fulfilment, to serve with more meaningful impact, to live a truly embodied life, to enjoy greater freedom, authenticity and alignment in everyday interpersonal engagement, purposeful business, open-hearted relationship and deeply connected sexual intimacy.
Mo has built a truly unique lifestyle business, deeply aligned to his values and passions, he shares an extraordinary, playful and passionate relationship with his partner Lisa Page, and works with clients from around the world to do the same.